Description
Note: Save an extra 10% OFF when you apply the coupon -  SP10 at checkout.
Countertop UV Reverse Osmosis Water Filter System

Y7 best Countertop Reverse Osmosis Water Filtration System

Converts your tap water/well water into pure and healthy drinking water by removing the pollutants & harmful substances including chemicals (PFOA/PFOS, Pharmaceuticals), heavy metals (Lead, Arsenicetc), chlorine, Microplastics, TDS (fluoride, nitrates/nitrites) and etc. It also can effectively remove hard water deposits (white matter), peculiar smells, and rust from water. Say goodbye to the hidden dangers of tap water and eliminate the need to purchase bottled water for your home.

SimPure UV water filter countertop Effectively destroys microorganisms and germs with more thorough sterilization from your water. Combined with 3-Stage RO Filtration System, the water filter dispenser can take water purification to another level.
Automatic Zero Installation Water Purification System
Plug the water filter dispenser in and you'll have purified water right away. One full set of quick-changing twist-and-seal filters come included. Get rid of the troubles caused by complicated installation and filter replacement. And just fill the removable 1.3-gallon water tank, the countertop reverse osmosis system automatically purifies, sending clean water to the internal storage tank. 180ML/350ML/450ML three water level buttons to meet different water volume requirements.
5:1 Pure to Drain Ratio
The lowest drainage ratio of countertop RO system products in the market. Using the Recycling Multi Filtration Technology can save your water up to 1500%. You can get a cup of purified water in about 15 sec by the water filter dispenser with faster Dispense flow rate (418 GPD). 
A Truly Smart Countertop Reverse Osmosis Water Purification System
This water filter dispenser has filter replacement, water shortage, one-button flushing, and water change reminder function. Separate raw water and wastewater to avoid repeated filtration, making your water quality safer, prolonging the service life of the filter element, and not easy to block the filter element.
Serving USA Since 2006, One

-year Warranty
Seattle, WA USA, SimPure has been providing world-class quality water filter countertop solutions for over 15 years. The One-year warranty can be found in the manual or on the SimPure official website. In addition, 24-hour online customer service is also available for help. If for any reason you are not completely satisfied with your SimPure products, we offer a 30-day full refund and a one-year warranty on all our products.
Specs
What's in the Box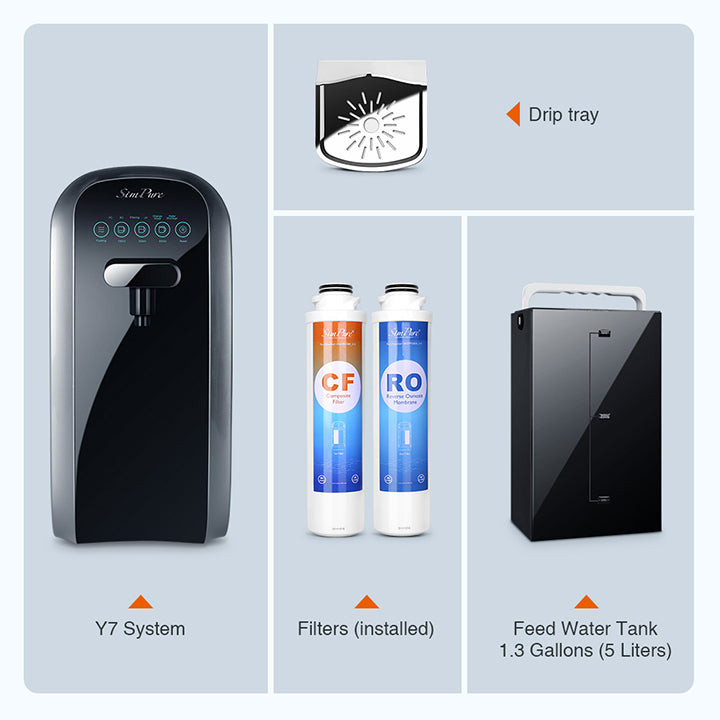 Payment & Security
Your payment information is processed securely. We do not store credit card details nor have access to your credit card information.