Is there any best air purifier for smoke under $100? Breathing in smoke can be harmful to your health and can cause respiratory problems. If you live in an area with a lot of smoke, or you are a smoker, it's important to find a way to purify the air in your home. Air purifiers are an effective way to reduce smoke in the air and improve air quality, but with so many options available, it can be difficult to find one that fits your budget. Fortunately, there are some great air purifiers for smoke that are available for under $100. In this article, we will take a closer look at the best air purifier for smoke under $100 and provide you with the information you need to make an informed decision.
Harmful Effects of Secondhand Smoke
Secondhand smoke, also known as passive smoking or environmental tobacco smoke, refers to the smoke that is exhaled by a smoker or emitted by a burning cigarette or other tobacco products. It is a serious health hazard that can lead to a range of negative health effects in both children and adults.
According to the Centers for Disease Control and Prevention (CDC), secondhand smoke contains more than 7,000 chemicals, including hundreds that are toxic and about 70 that can cause cancer. When someone inhales secondhand smoke, they are exposed to these chemicals, which can harm nearly every organ in the body.
For children, exposure to secondhand smoke is especially dangerous because their bodies are still developing, and they breathe more air per pound of body weight than adults. Secondhand smoke exposure in children can cause respiratory infections, asthma, sudden infant death syndrome (SIDS), and ear infections, among other health problems.
For adults, exposure to secondhand smoke can cause heart disease, lung cancer, and stroke. In fact, according to the CDC, even brief exposure to secondhand smoke can be harmful to the heart and blood vessels.
Given the harmful effects of secondhand smoke, it is important to reduce exposure as much as possible. One way to do this is by using an air purifier designed to remove smoke particles from the air. An air purifier can help to capture and filter out smoke particles, reducing the concentration of harmful chemicals in the air. And the good news is that there are many air purifiers available that are affordable, including options under $100.
General aspects to consider when looking for the best air purifier for smoke under $100
Finding the right one can be challenging, especially when you are on a budget. In this part, we will explore some general aspects to consider when looking for the best air purifier for smoke under $100.
1. Type of Filter
Look for an air purifier with a HEPA filter, which is designed to trap small particles like smoke and pollutants.
2. CADR Rating
Check the Clean Air Delivery Rate (CADR) rating, which measures how quickly the air purifier can clean the air. A higher rating means better performance.
3. Coverage Area
Consider the size of the room you want to purify and choose an air purifier with a suitable coverage area.
4. Noise Level
Some air purifiers can be noisy, so look for one with a low decibel rating to avoid any disruptions.
5. Cost
Finally, choose an air purifier that fits your budget while still meeting your needs.
Best Air Purifier for Smoke under $100: MS18 Air Purifier
After extensive comparisons, we have found the best air purifier for smoke under $100. We can confidently say that the MS18 Smoke Eater HEPA Air Purifier is the most effective and affordable option available on the market. You can get its top features below:
1. Comprehensive filtration system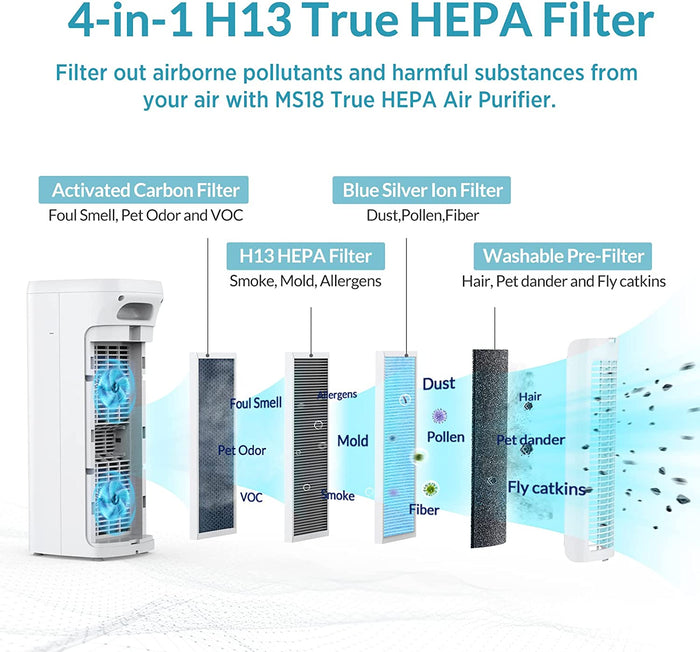 2. Powerful performance
With two powerful centrifugal fans delivering clean air at the rating of 110 CFM, MS18 air purifier covers up to 825 square feet in 60 minutes or 206 square feet in 15 minutes. This makes it an ideal air purifier for smoke smell and smokers in various rooms.
3. Durable and washable filter
The washable pre-filter prolongs the lifespan of the HEPA filter and ensures better filtration performance, saving you money on replacement filters in the long run.
4. Whisper-quiet sleep mode
MS18 air purifier produces only 25-30 decibels of noise, making it ideal for bedrooms and nurseries. The tower structure saves floor space and the sleep mode gives you a peaceful and comfortable night without noise.
5. Exclusive "Odaller Pure" technology
MS18 air purifier adopts double-layer mesh sticky carbon technology and chemical adsorption deodorant that improves the speed and efficiency of air purification while greatly enhancing the deodorization effect.
6. Fit within your budget: Best air purifier for smoke under $100
The MS18 HEPA Air Purifier is an affordable solution that won't break the bank, costing under $100. It has advanced features such as a washable pre-filter and true HEPA filter. We highly recommend purchasing it to improve the air quality in your home.
In summary, reducing exposure to secondhand smoke is critical for protecting the health of both children and adults. Using an air purifier can be an effective way to reduce exposure and mitigate the harmful effects of secondhand smoke, the affordable options available is to buy MS18 air purifier- best air purifier for smoke under $100.